Jennifer Bridgers-Practice Manager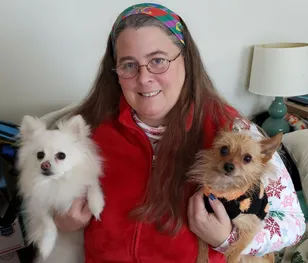 Jennifer Bridgers joined the team of Coastal Animal Hospital in 1994. Originally from Southeastern Virginia, she moved to the Outer Banks in 1991 and quickly found her passion for animal care. Despite starting as a receptionist, Jennifer's dedication and commitment caught the eye of her superiors, and she gradually ascended through the ranks. Alongside her professional growth, Jennifer pursued her education and obtained a dual degree in Business Organization and Marketing in 2015. Outside of her work at Coastal Animal Hospital, she leads a fulfilling life with her husband in Buxton. Their home is blessed with the presence of two adorable canine companions - Elsa, their princess Pomeranian, and Kernel, a lovable Pomeranian/Chihuahua mix. Kernel's friendly nature embodies the essence of the animal hospital, as he never fails to brighten the days of both staff and visitors, he certainly doesn't know any strangers. Jennifer's compassionate nature extends beyond the walls of Coastal Animal Hospital. She finds immense joy in giving back to her community and actively participates in various volunteer activities. One organization that holds a special place in her heart is Mane and Tail, an equine therapeutic riding academy for special needs children and adults. Jennifer's involvement with Mane and Tail allows her to combine her love for animals and her desire to make a positive impact on the lives of those in need. In her precious moments of leisure, Jennifer explores her love for nature and wild animals. She immerses herself in the beauty of the world, capturing stunning photographs of wildlife and beautiful landscapes. Jennifer's photography skills not only provide her with an artistic outlet but also offer glimpses into the wonders of our natural surroundings. Whenever possible, Jennifer and her husband embark on exciting travel adventures, exploring new destinations and soaking in the diverse cultures that enrich our planet. With over two decades of experience at Coastal Animal Hospital, Jennifer exemplifies the qualities expected of a Practice Manager. Her dedication, expertise, and attention to detail contribute to the smooth operation of the animal hospital. Jennifer's warm and approachable demeanor not only puts clients at ease but also fosters a harmonious work environment for the entire team. With her extensive experience, expertise, authority, and trust, Jennifer plays a pivotal role in the success of the animal hospital.



---
Kate- Lead Veterinarian Technician

Kate's love for animals led her to pursue a career in veterinary medicine. At the age of 16, she started as a kennel attendant, learning the basics of animal care and handling. Her dedication and enthusiasm for the field propelled her forward, and she graduated from the veterinarian technology program at Fairmont State University in 2004. This marked the beginning of her professional journey as a veterinary technician. After completing her education, Kate acquired licenses in both Virginia and North Carolina, allowing her to practice veterinary technology in both states. She understood the importance of staying up-to-date with the latest advancements in the field and furthered her education in abdominal ultrasound and echocardiograms for canines and felines at the prestigious Sound Technologies Imaging Program in Arlington, Texas from 2006 to 2007. One area where Kate has developed a particular interest and expertise is laser therapy. Laser therapy is a non-invasive treatment that uses light energy to stimulate cell regeneration and promote healing. Kate has been practicing laser therapy for many years and has witnessed firsthand the incredible impact it can have on the healing process for animals. Her passion for this innovative treatment option drives her to continually expand her knowledge and skill in this area. While Kate's dedication to her work as a vet tech is undeniable, she also has a variety of interests outside of Coastal Animal Hospital. Her love for Harley Davidson motorcycles is well-known among her colleagues, and she often spends her weekends enjoying long rides on her beloved bike. In addition, Kate finds solace in nature and enjoys kayaking, canoeing, and even attempting to surf. These hobbies provide her with a much-needed balance and help her recharge, allowing her to bring her best self to her work. As the lead veterinary technician, Kate plays a crucial role in the smooth operation of the veterinary team. Her exceptional organizational skills, attention to detail, and ability to handle multiple tasks simultaneously make her the glue that keeps everyone together. Kate's presence brings a sense of calm and unity to the team, ensuring that all operations run smoothly and efficiently. Kate's loyalty and dedication to Coastal Animal Hospital are unmatched, we are beyond grateful to work and learn beside her!

____________________________________________________________________________________________________________________________

Ashley B.-Veterinary Assistant
Ashley's dedication to patient welfare and professional expertise sets her apart. Ashley's fondness for animals took root from an early age, as she spent her childhood on her family's Virginia farm. Growing up surrounded by a variety of farm animals and pets, she developed a deep bond with them and learned the importance of compassionate care. In 2015, Ashley and her husband embarked on an exciting journey, relocating to the picturesque Outer Banks. Enamored by the island life and its pristine beaches, they immersed themselves in a captivating coastal environment. Living by the sea further ignited Ashley's passion for aquatic creatures and their well-being. Throughout her career, Ashley has consistently surpassed expectations as a veterinary assistant. Her unwavering dedication and commitment have garnered the respect and trust of her colleagues and the animal owners she works with. She constantly strives to go beyond the call of duty and provide the highest level of care for every patient she encounters. Ashley cherishes her leisure time with her own beloved pets. Calypso, a delightful pittie princess, brings boundless joy to her life. Additionally, she shares an unbreakable bond with her handsome and intelligent pit mix, Dirka. Ashley's love for her own fur babies extends to all the animals she cares for in her professional life. If Ashley had her way, she would fulfill her dream of owning a whole herd of animals, no matter their size or breed. However, her husband has reservations. Nonetheless, her desire to provide a nurturing environment for animals mirrors her profound love for them. During her free time, Ashley indulges in activities that connect her with nature. Fishing, surfing, and lazy beach days are among her favorite pastimes. These activities not only help her relax but also serve as a reminder of her deep connection with the natural world and its inhabitants. Above all, Ashley's heart brims with unconditional love. She ardently advocates for animals, using her voice to speak on their behalf. As an outstanding veterinary assistant, she recognizes the significance of being an advocate for patient welfare. Ashley stands up for her patients, ensuring they receive the love, attention, and medical care they rightfully deserve. Ashley's passion for her profession and the well-being of her furry patients distinguishes her as an invaluable asset to the veterinary community.
____________________________________________________________________________________________________________________________
Nicole-Veterinary Technician
Nicole is in our Kitty Hawk location and has been working with animals for 22 years and became a licensed technician in 2005. She has lived on the Outer Banks since 2012 and lives in Stumpy Point with her husband, 2 dogs, 1 cat, 3 ducks, and 7 chickens. She is a volunteer fire fighter and treasurer for the Stumpy Point VFD and enjoys getting involved in various community projects. Prior to coming to the Outer Banks, she lived in Massachusetts and worked in various types of animal hospitals including Tufts Veterinary School. She has specialized in Ophthalmology, Cardiology, and Urgent Care/Critical Care and we are very excited to have her experience in these specialties and her detail and love for all animals shows. She much prefers her relaxed, low key lifestyle here in the OBX compared to the hustle and bustle of the North. In her free time, she enjoys gardening, soaking up the sun, and reading a good book.

____________________________________________________________________________________________________________________________
Alexis- Lead Receptionist

In today's busy world, finding someone who goes above and beyond in their job is like finding a needle in a haystack. However, Alexis, a vet receptionist with a passion for building relationships, stands out from the crowd. With her warm smile and genuine interest in every client, she quickly establishes trust and rapport. Alexis has been working as a vet receptionist for six years, honing her skills and gaining valuable experience along the way. Starting her career at a local animal hospital, she quickly developed a reputation for her attention to detail and excellent customer service. Whether it is scheduling appointments, answering phone calls, or providing information about pet care, Alexis effortlessly handles it all. One of her greatest strengths is her ability to form lasting relationships with clients and their furry companions. She understands that a trip to the vet can be stressful for both pets and their owners. Therefore, Alexis goes above and beyond to make every interaction a pleasant and comforting experience. She is not only a passionate vet receptionist but also a proud pet owner. She shares her home with two adorable cats named Farley and Lucy, who bring joy and companionship to her life. Lex's firsthand experience with pet ownership allows her to relate to clients on a deeper level, offering guidance and understanding during difficult times. When She isn't busy caring for animals and building relationships with their owners, she indulges in her passions outside of the veterinary world. Music festivals/concerts, reading, crocheting, softball, and her love for food are just a few of the things that keep her spirits high and her mind inspired. She believes that embracing her own hobbies and interests helps her connect with clients on a more personal level. Whether it's scheduling a routine check-up or dealing with a pet emergency, her expertise shines through, providing clients with peace of mind. Whether you need advice, support, or someone to put a smile on your face during a difficult time, Lex is here to help.
____________________________________________________________________________________________________________________________
Vincent-Veterinary Assistant
Born in Norfolk, Virginia, raised in Currituck, North Carolina, and with a taste for adventure that led him to Alaska, Vinny brings a unique perspective and a wealth of experience to his role. Before embarking on a career in veterinary care, Vinny served in the Coastal Guard, where he honed his skills in discipline and dedication. We are incredibly grateful for his service and the commitment he brings to every aspect of his life. After making the decision to change professions, Vinny joined our team, bringing with him a deep passion for animals and a desire to make a positive impact on their lives. One striking quality about Vinny is his gentle care and compassion for our patients. Whether it's a routine check-up or a more complex procedure, Vinny approaches each task with genuine empathy and kindness. He understands that animals deserve respect and attention, and he consistently goes the extra mile to ensure their comfort and well-being. Our furry friends can sense his warmth and trust him immediately—making their visit to the clinic a stress-free experience. When Vinny is not busy spoiling our patients with love and care, you can find him enjoying a variety of hobbies. His love for the beach is evident, as he finds solace in the sound of crashing waves and breathtaking sunsets. Another passion of his is chess, where he engages in strategic battles with friends and continuously hones his analytical skills. Apart from that, Vinny is an avid reader who believes in the power of literature to expand one's horizons. You may often find him engrossed in a gripping novel during his downtime. And speaking of downtime, Vinny is a self-proclaimed food enthusiast who enjoys exploring different cuisines with his friends. His enthusiasm for good food is contagious, and he can often be heard recommending local eateries and their specialty dishes. Vinny's transition from the Coastal Guard to veterinary care speaks volumes about his adaptability and commitment to excellence. He has undergone extensive training and continues to expand his knowledge in order to provide the best care possible for our beloved pets. Vinny's expertise lies not only in the technical aspects of veterinary assistance but also in his ability to establish a soothing and secure environment for animals.
____________________________________________________________________________________________________________________________
Mary-Receptionist
Mary grew up spending her winters in the outskirts of Buffalo, NY, and her summers here on the Outer Banks. She graduated from Currituck High School in 2002. Mary enjoys working with clients and their fur babies, and it's obvious with her smile and calm demeanor. Mary has always had a passion for animals. Mary shares her home with a calico cat named KK, and two feisty kittens Stassi and Romeo. She also looks after and cares for our local feral cats that have made her home their home. Mary decided to have a career change in 2023 after spending over 20 years in the hospitality industry and we are very excited to now have her share her passion for animals with our Coastal family. When not working Mary enjoys spending time with her daughter and baking.

____________________________________________________________________________________________________________________________
Ashley S.-Receptionist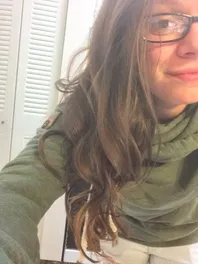 Growing up in Philadelphia (GO EAGLES!!!), Ashley developed a deep-rooted love for animals and the great outdoors. This love led her to pursue a career in veterinary medicine, where she could combine her passion for animals with her desire to make a positive impact on their lives. Ashley's journey in veterinary medicine began a decade ago, and since then, she has honed her skills, gained valuable knowledge, and established herself as a trusted professional in her field. With each passing year, Ashley's expertise has grown, enabling her to provide the highest level of care to her furry patients. Beyond her work in the veterinary field, Ashley also leads an active and enjoyable lifestyle. She finds inspiration in engaging in various outdoor sports activities. Whether it's hiking, cycling, or running, Ashley embraces the challenges and thrills of nature sports. Additionally, Ashley has a deep appreciation for live music and regularly attends concerts of her favorite artists. This serves as a way for her to unwind and recharge, allowing her to bring a positive and energetic attitude to her veterinary practice. Her passion for animals extends beyond her professional life. She is the proud owner of a playful poodle named Max. Max brings joy, companionship, and unconditional love into Ashley's life, proving that the human-animal bond is a truly remarkable and rewarding experience. Ashley's commitment to her patients is unparalleled. She believes that every animal deserves to be treated with compassion and respect. Whether it's a routine check-up or a complex medical procedure, Ashley goes above and beyond to ensure that her patients receive the best care possible. Her dedication, attention to detail, and empathetic nature make her a trusted source of support for both pets and their owners.
___________________________________________________________________________________________________________________________

Amber-Buxton Veterinary Assistant
Amber is a nurse at our Buxton location, she is Dare county local, born and raised in Manns Harbor. She graduated Appalachian State University in 2020, majoring in sustainable development with a concentration in agriculture and animal studies. While in school, she interned at a Veterinary clinic and knew she wanted to further her education in veterinary medicine. We feel very lucky to have her compassion and talents for smooth scheduling, while loving on our clients babies. In her spare time, she loves to go offshore fishing with her boyfriend and commercial shrimp on her dad's boat, F/V Amber C. Amber is an aquarium enthusiast and has roughly 25 aquariums in her home, and will soon be adding a fishtank to our Buxton location for our clients to enjoy. When not on the water she spends her time with her two dogs and a cat.

____________________________________________________________________________________________________________________________

Christine-Buxton Reception
pic and bio coming soon!
____________________________________________________________________________________________________________________________

Brianna-Buxton Veterinarian Technician
Briana moved to the Outer Banks from upstate New York in 2017, after graduating from Alfred State College. She is our Head Licensed Technician in Buxton. Brianna is a Licensed Technician in both New York and North Carolina and has a passion for wildlife and exotic animals. She and her boyfriend reside in Buxton with their three dogs: Lou, Ham, and Jameson. On her days off she enjoys exercising, fishing, gardening, and spending time at the beach.

____________________________________________________________________________________________________________________________
Ella-Receptionist
pic and bio coming soon!
____________________________________________________________________________________________________________________________
Matthew-Kennel Attendant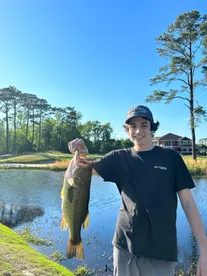 Matthew is a student at FFHS. He joined our team in 2021 and has been at our Kitty Hawk location ever since! Matthew has three dogs: Pip, Bella, and the newest member Panda which they had rescued from here. In his free time Matthew enjoys jet skiing with friends and family, fishing, and working on his new truck. We are so glad to have Matthew be a part of our team!
____________________________________________________________________________________________________________________________
Ashley Q.-Kennel Attendant
pic and bio coming soon!
____________________________________________________________________________________________________________________________
Matte-Kennel Attendant
Matte is a student at FFHS who hopes to attend NC State University. She has been with us for about a year now and is a great addition to our team! As someone who works in the kennels, you could probably guess that she has a strong love for pets! In her free time, she enjoys swimming at the beach, drawing, and painting.

____________________________________________________________________________________________________________________________
Angie Banks- Receptionist
When it comes to providing exceptional customer service and care for pets, Angie is unmatched. With her warm and friendly personality, as well as her extensive knowledge in the field of veterinary medicine, she has become a trusted and invaluable member of the team. Born and raised in the Outer Banks, a true native of the community. She began her veterinary medicine journey in 2016 when she joined a local animal hospital. Over the years, she has honed her skills and deepened her understanding of animal care and customer service. From answering phone calls and scheduling appointments to providing a warm welcome to visitors, Angie's role as a receptionist requires both compassion and efficiency. Angie's primary focus is ensuring that each client and their fur babies receive the highest level of care and attention. She goes above and beyond to make sure that all clients feel welcomed, understood, and valued. With her extensive knowledge in veterinary medicine, she is able to answer basic questions and provide guidance when needed. Her ability to empathize with pet owners and address their concerns has earned her the trust and respect of the community. Angie's dedication to her role extends far beyond her daily duties. She is known for her willingness to assist in any capacity, often stepping in to help the veterinary team when they require an extra hand. From soothing nervous pets to lending a sympathetic ear to worried pet parents, Angie is always there to offer support. Her presence brings comfort to both clients and their fur babies, creating a positive and welcoming environment within the clinic. When Angie is not busy at work, she enjoys pursuing her diverse range of hobbies. One of her passions is cooking, and she loves experimenting with flavors and creating delicious meals. Whether it's a potluck lunch at the office or a gathering with friends and family, Angie's culinary skills are always a hit. Additionally, she is an avid bowler, often participating in local tournaments and leagues. This hobby not only keeps her physically active but also provides an opportunity for her to connect with others who share her love for the sport. Lastly, Angie enjoys crocheting as a way to unwind and express her creativity. Above all else, Angie cherishes spending quality time with her family. Whether it's exploring the beauty of OBX, or simply sitting down for a meal together, these moments are truly treasured. Angie believes in the importance of family bonds and cherishes the love and support they provide. We're blessed to have her as a part of our team!

____________________________________________________________________________________________________________________________
James- Veterinary Assistant
Pic coming soon!
James is a passionate and dedicated veterinary assistant from the Outer Banks. After graduating from First Flight High School, James embarked on his veterinary medicine journey two years ago in Washington D.C. With a genuine love for animals and a strong desire to be their voice, James has become a trusted advocate for their well-being. It was during this time in D.C. that James developed his practical skills, and gained valuable hands-on experience in various veterinary settings. One of the key aspects that sets James apart is his unwavering dedication to being the voice for animals. James firmly believes that all animals deserve compassion, excellent care, and a chance at a happy and healthy life. In his role as a vet assistant, James takes every opportunity to ensure that the needs of animals are met and that they receive the love and care they deserve. James has developed a strong bond with his patients. He understands the importance of creating a safe and comforting environment for animals, especially during times of illness or injury. With his gentle touch and compassionate nature, James helps alleviate their fears and ensures their well-being. This approach not only helps the animals but also brings comfort to their worried owners. Outside of work, James enjoys spending time with his loyal best friend, a lovable Pitbull named Moo. Moo has been James' faithful sidekick for years, accompanying him on adventures and providing endless affection. Their bond serves as a reminder of the unconditional love and loyalty that animals can bring into our lives. James' personal experience with animals further fuels his passion and empathy as a veterinary assistant. In his free time, James embraces adventure and connects with nature through hobbies such as live music, fishing, and surfing. These activities not only provide him with a much-needed balance from his demanding veterinary work but also allow him to appreciate the beauty of the world around him. James firmly believes in the importance of self-care and finding joy in life's simple pleasures. We're very happy to have James as a part of our team here at Coastal Animal Hospital.