Dr. Stephen M. Samson
Dr. Samson is the veterinarian owner of Coastal Animal Hospital. His philosophy of veterinary medicine is to treat all of his patients with the same thoroughness and compassion as if they were his own personal pets. He understands that he is not only treating a pet but a beloved member of the family. His professional interests are geriatric medicine, dermatology, internal medicine and alternative treatment modalities. He is a member of the American Veterinary Medical Association, the North Carolina Veterinary Medical Association, and the Holistic Veterinary Medical Association. He is also a member of the Veterinary Information Network, which is an online association of more than 2,000 veterinarians worldwide who share ideas and medical knowledge with the aim of facilitating and progressing the art and science of veterinary medicine. Personal interests include weight lifting, reading, fishing, his church and spending time with his 4 children and 3 pups. Psalm 136:1
________________________________________________________________________________________________________
Dr. Sara Beth Belton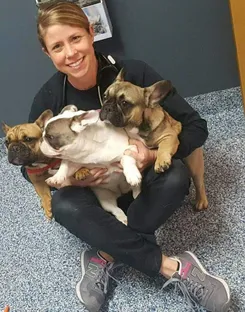 Dr. Sara Beth Belton is our senior veterinarian in our Coastal Family. Besides her loving and caring personality, she brings 11 years experience as a veterinarian. Dr. Belton did her undergraduate at NC State and earned her veterinary degree at Ross University School of Veterinary Medicine. She was born in Washington, North Carolina and now she calls Outer Banks home, with her husband, Joey, and her two beautiful young children. Her four legged children include Rivers, a Labrador, and a very cute French Bulldog named Stella. When she is not at work, sharing her experience and knowledge with us, she enjoys fishing/boating, reading, and spending time at the beach with her family.
________________________________________________________________________________________________________
Dr. Emily Kelly
Dr. Kelly knew as early as third grade that her dream job was to help animals and in 2004 she graduated from Oklahoma State University veterinary school. Originally from Texas, Dr. Kelly recently settled to Kitty hawk from the Chicago land area, where we are happy to say she joined our family in May of 2022. Prior to Illinois, she was practicing medicine in Turkey for two years as a civilian veterinarian for the army. Her fur babies include Moses the show dog, who is already settled right in and everyone has fallen in love with him, and Stella the Turkish cat. Her favorite aspect of her job is becoming an integral part of helping families make the best decisions for their pets. In her spare time, she has found an obsession for fishing, learning the beach life, and trying to not get her Jeep stuck out on the beach.

_____________________________________________________________________________________________________

Dr. Christinia B. Hicks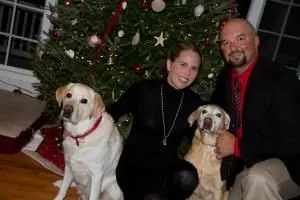 Dr. Hicks is a born-and-raised native of Hatteras Village. She completed her undergraduate and veterinary degrees at North Carolina State University. Striving to provide the most compassionate veterinary care, her gentle manner and calming spirit bring a loving touch to our hospital. Her professional interests include surgery, emergency medicine, holistic medicine, and exotic animal care. She is a member of the American Veterinary Medical Association and the North Carolina Veterinary Medical Association. Still residing in Hatteras Village, Dr. Hicks and her husband share their home with two dogs, Cash and Georgia, a rescued kitty named Calypso, a 4-1/2 foot Ball Python named Carter, and 2 bearded dragons, Pancho and Lefty. When not at work, she fills her time by cooking, fishing, surfing, photography, and supporting the NC State Wolfpack. She also serves on the Hatteras Village Civic Association and the Hatteras Island Cancer Foundation.
______________________________________________________
Dr Rebecca Hederer
We are excited to welcome Dr. Rebecca Hederer to our Coastal team. She is a Royal Veterinary College graduate and was born and raised in FT Worth, Texas. She shares her home with 2 kitties, one named Kizzie, who is a 8yr old Tabby/Torti and Ubasta, a 7yr old dilute Torti Sphnx. In her free time she enjoys exploring the Outer Banks, traveling, and reality TV. She is a huge fan of Harry Potter. What she loves about becoming a veterinarian is that she is forever learning and always striving to do what is best for animals and their families.
____________________________________________________________________________________________________________________________



Dr. James Clark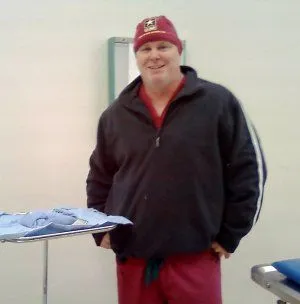 Dr. Clark is called in for consultation and/or surgery if the needs of our patients require it. Owning a home in the Outer Banks, he observed the logistical obstacles people must overcome in order to obtain specialized veterinary care, and recognized the lack of local referral options in eastern North Carolina. Dr. Clark seeks to deliver a higher quality veterinary specialty care here on the Outer Banks.

He earned his DVM from North Carolina State University in 1996 and then completed a rotating internship in Medicine and Surgery at Mississippi State University. He completed a one-year surgical fellowship at the Dallas Veterinary Surgery Center, followed by a three year surgical residency at University of Minnesota. Dr. Clark has fulfilled all requirements for board certification in small animal surgery and had been working as a staff surgeon at the Veterinary Specialty Hospital in Cary, NC for the previous six years.